Sweden Afternoon
One of my brothers accompanied a good friend of ours on a business trip to Sweden. He took a photo of these boats on one of their tours of the countryside.
---
Violins
When I was working at Sonalysts, we used image bank books quite often for examples. I came across this image of violins and thought I should paint them some day. I was learning Photoshop filters at the time, so the only file I had for reference was a manipulated rough color file. I've searched the web looking for the photo again since I'm not sure of the company where the original photo originated. After college, I took several years off from painting oil; this was the one of the first paintings I created when I decided to begin oil painting again.
---
Violin Study
Since my Violins painting reference was altered, it was difficult to see violins details. I did this study to learn about the violin scroll.
---
Sweet Nectar [Butterfly]
Sometime in May there is a Butterfly event in Norwich, CT. My son and I met my folks there when he was young. It was fun to see him have butterflies land all around him. This photo reference was taken then.
---
Collide
I painted this for a fundraiser for a good college friend in Texas. Her husband was in a motorcycle accident and she was pregnant at the time. While painting it for her, I couldn't help thinking how much they were going through at the time. There were some fine folks who purchased the painting at the fundraiser and gave it to my friend.
---
Janine's Sunflowers
I have a cool friend that I met at a Center for Creative Youth program in high school. We have stayed in touch during the years, even with her moving to Colorado. She sent me several photos one day; I told her that I had to do a painting of one of them – Janine's Sunflowers.
---
Remy's Barn
One of my son's friends from preschool was moving to Texas. His family lived in East Haddam for a while and loved their yard and barn. The boy's mother always gave me great advice. The family, with three children, had fond memories of their yard and barn. I thought about them while I painted this picture. This commissioned piece was to help them remember their Connecticut home.
---
Flowers for Paula
After I painted this in high school, I really thought about going to college for art. Most of my early works are watercolors. I would look at an image and try to copy it. I only have a 35mm slide of this piece since I gave the original painting to a distant cousin who was struggling medically at the time.
---
Thankful Wreath
I originally planned to write a small poem in the center of the wreath with words that would represent the thoughts of the person entering the house – to celebrate enjoyable times as well as getting through tough times together. The wreath on the door was inspired by photos taken at friends' gardens and houses, my parents' house and Ballek's Garden Center in East Haddam, where Art League artists gather over the winter to paint. The flowers represent the personalities and characteristics of family and friends: simple, amusing, complicated. Those well known, or that we're just getting to know… Here's the poem: "As I enter this house of a good friend of mine, for an evening of laughter and fine wine, I must share many thanks… 'Tis good to enjoy life, know thee long time."
---
Guilford Dairy Farm
The reference for this Guilford Dairy Farm painting was from a 1935 slide from my husband's family farm.
---
Dinner at Captain Scott's
My husband and his work department like to meet at Captain Scott's Lobster Dock in New London, CT. It's a fun seafood place right on the water. After dinner as we were walking to the parking lot, the sun was so lovely setting with the boats, I felt I had to paint the scene.
---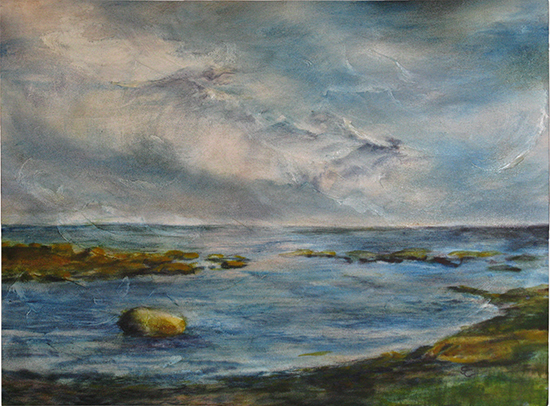 Guilford Beach
Shortly after finishing the Violins and New York skyline, I painted this Guilford, CT beach shoreline.
---
Supporting Beauty
While shopping for veggie plants at Rose-N-Petal Farm in Colchester, CT, I found this magnificent tree. By crawling through the dark maroon umbrella of leaves, I found the most beautiful unique glow of colors.
---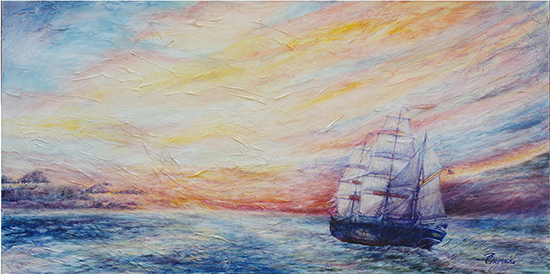 At Last On Evening Tide
I was grateful for this commission project as I used to paint large canvas layered skies in college. I love painting the old tall ships with their canvas sails. This ship was based on the old clipper ship, Charles W. Morgan, which was recently restored in Mystic, CT. The owner has mentioned every time he looks at the painting at the end of a long work day, he sees something new. I am glad I was able to paint that for him.
---
Grateful for The Cove
I love this commissioned piece. The receiver of this gift went to Selden Cove as their place to relax, their personal retreat. I kayaked the cove to take almost 300 photos to find this view to paint. All the details of the landscape are painted as they were in the photo.
---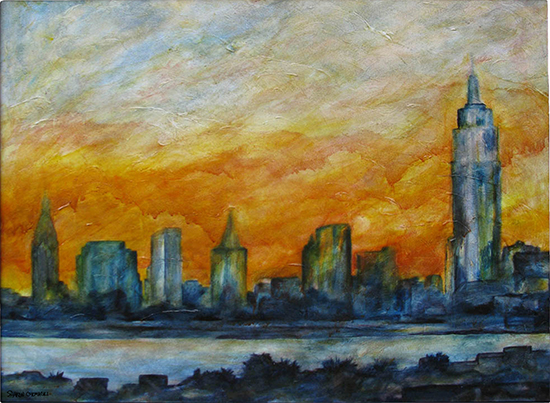 NY Skyline
My little brother, Greg, sent me a black and white photo of the New York Skyline. I created this painting for him from that photo… very fun to add so much color. I was just getting back into painting and this was one of the first skies I did since college. I hope to paint more skies and clouds.
---
Tito Landscape
My folks had a faded picture of this landscape above our family room couch as I was growing up. The mountains, fields and trees remind them of where they grew up. I really enjoyed painting this for them with more vibrant colors and a brighter horizon.
---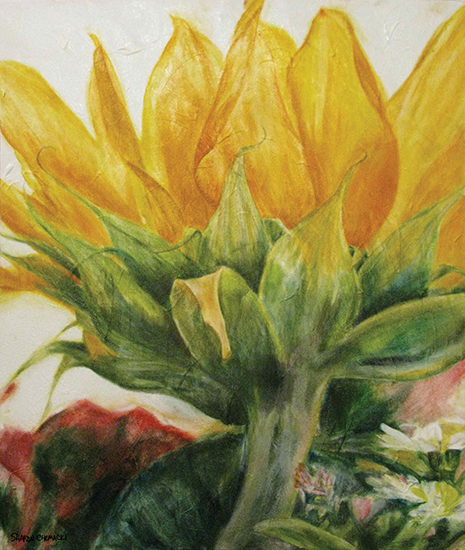 Beth's Sunflower
I have a wonderful friend, Beth, whom I have known since the sixth grade. She gave me these flowers and loves sunflowers. She has taught me from different perspectives on how to be strong. I was captured by the beauty in this bouquet from a different point of view.
---
Grandpa Jonesy's Woods
For only a short time, my husband's grandmother and her husband lived in these Alabama woods. She passed shortly after, so I painted this for Jonesy to remember their time together. The sweet 90 year old man called, tearfully, to thank me for the painting.
---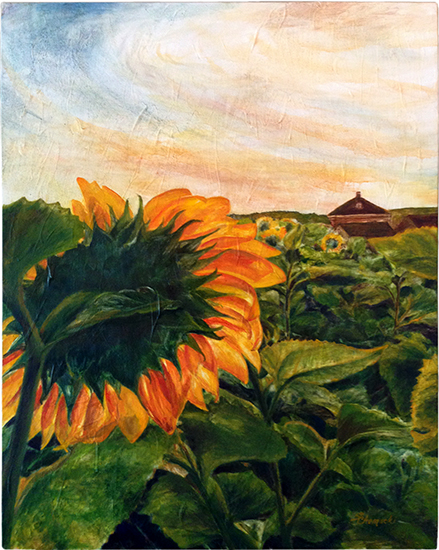 The Time Was Right / Buttonwood Farm
Good friends of ours invited us to join them on a late afternoon at the Buttonwood Farm's Sunflowers For Wishes event. We walked around a cool field with paths of sunflowers and took a wagon ride through other fields. By literally twisting to follow the path of the sun, the flowers seemed to be watching sun going down. The time was right.
---
Second Beach
This commissioned piece is of Second Beach in Rhode Island. I really enjoyed the water and skies and tried to keep it accurate to the reference photo while adding my atmospherical style.
---
Journey Met Horizon
When Beth got married, I felt her journey met a new horizon. She and Ben kayak and hike together and have many other cool adventures. I'm so happy for them.
---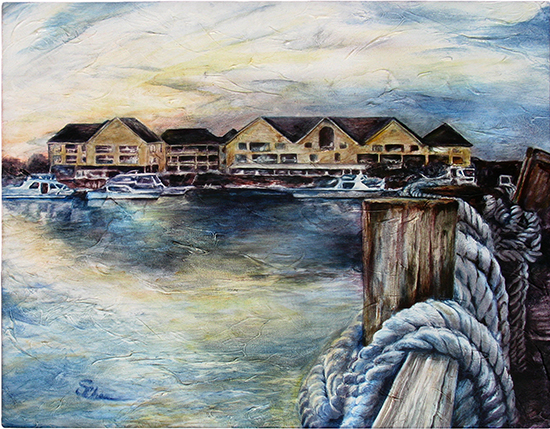 Learning the Ropes
A friend from high school moved down to North Carolina. His wife posted this photo in Facebook. The ropes, with water landscape in background, were beautifully fun to paint.
---
Beth's Skates
Beth loves to skate at outdoor rinks. I had fun painting her skates for her.
---
Heritage Rose 1
Sometimes it's good to paint familiar things over and over. My painting friend loves to paint pears. I have painted this Heritage Rose a number of times from a reference picture taken during a day trip with my Mom on Enders Island.
---
Heritage Rose 2
I painted this rose on a slightly larger canvas than the initial version. I gave it to my Aunt in Pennsylvania who let my family and I stay at her house when we drove out there for family events. When I became confirmed, I chose her for my sponsor. I am so grateful for all her thoughtfulness and generosity.
---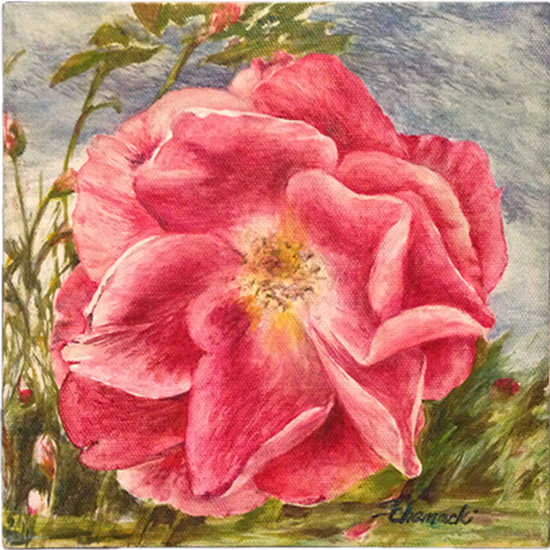 Heritage Rose 3
The day was overcast when I took photos of the roses on Enders Island. When I painted this one, I decided to be fun and add a cheerful blue sky.
---
Heritage Rose 4
Typically, I like using the white of the canvas and paint very thin layers of oil paint. Every once and a while I paint using white. Even though white paint worked for me this time, I will go back to layering in the next painting.
---
Neighbor's Flowers
In the first years of living in our house, one of my kind neighbors often offered a cup of coffee and chat. I treasured those times spent learning about the town and about being a new parent. She always had great advice. One day my neighbor gave me these flowers, which looked so fun, I had to paint them.
---
Quiet Woods
One of the good things about Facebook is that you can see photos where folks have traveled. I can imagine looking into those lovely quiet United Kingdom woods in Stanmer Village, East Sussex. Thank you, John, for the post!
---
Falls at the Brush Mill
I organized a plein air (open air) painting group in my town. This is one of the locations where we painted one fall day in 2016. It was fun to hear the rushing of the water while we painted.
---
Chicken Tender
My painting group met at an artist's house to paint her lovely gardens and flowers. This particular chicken hung out with us, so I decided to paint it. When I asked her the name of the chicken, she said, "It's either Buffalo Wing or Chicken Tender."
---
About The Path / Sunflowers for Wishes at Buttonwood Farm
Through old friends, we were introduced to Buttonwood Farm's Event, Sunflowers for Wishes, which usually happens every end of July in Griswold, CT where there are roughly 14 acres of sunflowers. We were there on a beautiful evening hayride through some of the fields. I took our painting group a few times during the day to paint at this location.
---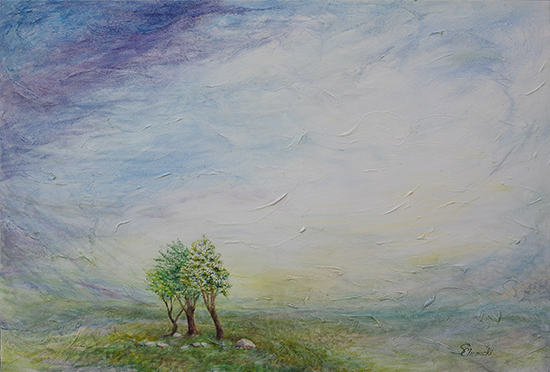 Before The Storm When Leaves Turn White
Our art league had an exhibit with paintings inspired by submitted poems. This painting was inspired by a poem with a line about leaves turning white just before a storm. My Uncle John taught me that when the wind blows and the leaves turn white, it means it's going to rain soon.
---
Amy Painting at Ineke's
Our painting group loves this location for it's calm beauty. One of our talented artists was capturing the scene and I just had to paint her. I love this painting to remember the day and be grateful for the owners who invited us to paint there.
---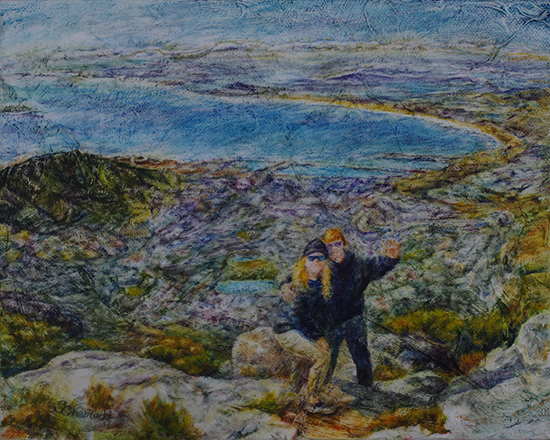 Table Mountain Proposal
A commissioned piece for a gift for this couple who got engaged on this famous mountain in Cape Town, South Africa. I researched online all the detail they saw in the distance behind them. Such a beautiful location for a special occasion.
---
Rock Conversations
My friend Beth got married at Acadia National Park. I have never been there, but she sends me wonderful photos that inspire me to paint. I painted a smaller acrylic from a photo reference of this scene for a gift, but kept thinking I needed to paint a larger one as well to capture the rock "conversations." The size, color and texture details in how the rocks related to each other in some of the rock gatherings were really interesting to me.
---
Hole in the Wall Beach
The Hole in the Wall Beach is located in Niantic, CT. I hung out on the beach growing up and I went crabbing with my brothers on this jetty. In this painting I tried to capture each and every rock of the jetty visible from this perspective.